Thomas Edison and The Exchange Telegraph Stock Ticker
I'm no expert on Stock Tickers, just an enthusiastic collector. So if anyone has some input, I'm all ears. You can email Rusty at wackypakkr@aol.com with any comments.
Some notes on the Edison & Unger Universal Ticker --
Take a look at these pictures and you can see the differences in design. Most notably, the shapes of the side plates and the electrical terminals.

Here are some of my observations and research into the Edison and Unger design of the Universal Stock Ticker.
After making a small fortune and taking a job with Gold and Stock in 1869, Edison set up a manufacturing plant with partner William Unger in 1870. Edison sold his U.S. patent rights to Gold and Stock, but also got the contract to manufacture stock tickers.
Also in 1870, the owners of Gold and Stock partnered with some British investors to form The Exchange Telegraph Company in London, England. They bought the patent rights from Edison and Unger to manufacture and distribute stock tickers in Britain.
In 1871, The Gold and Stock Telegraph Company was bought out by their biggest competitor, Western Union. For the next few years, Gold and Stock continued providing tickers under their name as a subsidiary of Western Union and between 800 and 1000 Edison and Unger tickers were manufactured. The design of the Universal Ticker changed sometime after Edison and Unger dissolved their partnership in 1873. Edison had sold all rights to FUTURE ticker patents to Gold and Stock back in 1870, so now they would become property of the new parent company, Western Union.
So the Edison and Unger design only saw 2 or 3 years of production in the U.S., but the Exchange Telegraph Company still owned the British rights. They were not affected by the Western Union buy-out, since their relation with Gold and Stock was a private one with the owners and not with the company itself.
ExTel continued manufacturing the Edison and Unger design (with modifications) until 1907. You can see in the picture below, that the mechanics of the ticker didn't change much in the 31 years from 1871 to 1902.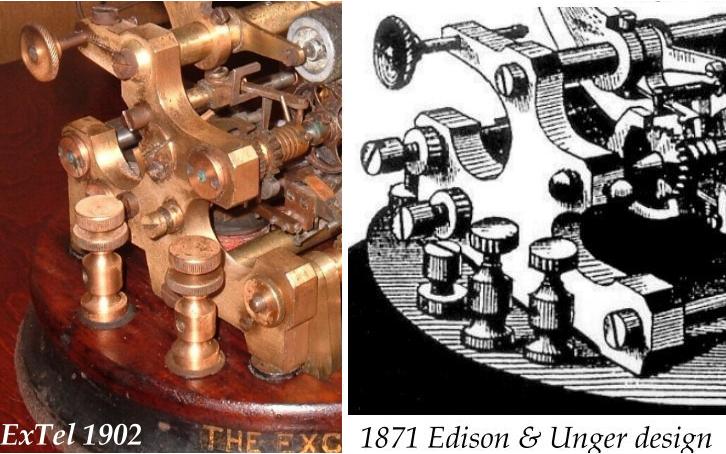 The biggest changes were the addition of a paper roll guard and the use of finished mahogany between the metal base and the ticker's mechanism.
See an Exchange Telegraph Stock Ticker
Some Brief Company Histories --
Gold and Stock Telegraph Company

This company was incorporated in New York in August 1867 to exploit Edward Calahan's stock ticker. On August 27, 1869 it acquired the Gold and Stock Reporting Company, including Edison's patents held by the company. In February 1870 Edison began working under contract to officials of the company. Two of his firms, American Printing Telegraph and Financial and Commercial Telegraph were acquired by Gold and Stock in 1870.

Exchange Telegraph Company (ExTel)

This company was incorporated in spring 1870 by officials of the Gold and Stock Telegraph Company, and British investors to provide quotations from the London Stock Exchange using Gold and Stock instruments, including Edison's Universal stock printer
Edison and Unger

In February 1870, Edison joins William Unger in establishing his first major shop, the Newark Telegraph Works, in Newark, N.J.
In May 1871 the Newark Telegraph Works moved to new and larger quarters on Ward Street in Newark, New Jersey, and changed its name to Edison and Unger.

On May 26, 1871 Edison signed a five-year contract as a consulting electrician and inventor for Gold and Stock. At the same time, Western Union acquired control of the company.
Edison and William Unger dissolved their manufacturing partnership on 1 July 1873 and the shop was taken over by Edison and Murray
Western Union Telegraph Company

This company emerged from the Civil War as the dominant American telegraph company. During the 1860s Edison worked as an itinerant telegrapher in several Western Union offices. Beginning in the early 1870s he worked for the company as a contract inventor, first for its Gold and Stock subsidiary and then under separate agreements directly with Western Union. The company controlled most of Edison's telegraph and telephone patents.
Learn how to invest in the stock market, and dabble in internet stock trading and online investing. Find a discount stock broker to buy stock and get hot stock tips.
Learn how to invest in the stock market, and dabble in internet stock trading and online investing.
online stock trading copyright 2006 EdisonTicker.com All Rights Reserved. buying stock online
.............. Find a discount stock broker to buy stock and get hot stock tips. online invest tool ..............