Unpublished Wacky Packages
---
WACKY HATE MAIL
I got an angry email from an Irish-American woman. A fiery red-head, perhaps? (kidding) Anyway, now I know how Topps feels.
Subject: Shame on You!
I came across your little parody of the Irish potato famine. How dare you do something like that? That is worse than disgusting, it is pure evil. Maybe you are young and think it is fun to be evil, what till you are a little older and see if you still feel that way.
My family came to America because of the potato famine. They were thrown out of their homes by your English forefathers. The English used to carry great loads of food in wagons right past the starving Irish who were eating grass and anything else they could get their hands on.
I have no idea why you think you are so much better than us. We both have shameful things in our closets and we both have glorious things there as well. Just do not make fun of a time in Irish history that you have not a single true idea about. You were not there.
Why dont you try to do something brave and be a little more Irish? Bobby Sands, lets see you make fun of him. You are so pathetic and I am saddened that I had to find your little parody.
Good day. No Irish blessings for you!
(Irish name withheld)

My Reply: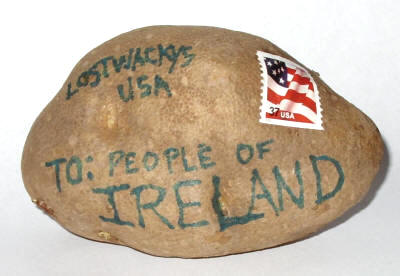 P.S. - My forefathers were not English.

So, that guy you saw on the food wagon back in 1846? .......it wasn't me.
LOST WACKYS
UNPUBLISHED WACKY PACKAGES
1991
Lost Wackys
Antenmann's, Plop on Pop
1992
Lost Wackys
Barfie, Beaver, Bimbo, BOB Magazine, Boosh Ball, Boy's Lice, Brain'nola, Buck Tales, CarpiSun, Chia Punk, Conun, Cranked, De'Ja Vu Master, Exximo Pie, Famine Circle, Farting Lineup, Fartles & Lames, FrozFoot, Fungicolor, Gooya, Ghoul Talk, Granny Hairs, Gristlers, GrowGerm, Harassame Street, Jo-Jo, The Little Barmaid, Louse & Garbage, Lush Pop, Mr. Potato Famine, Mumps Shoes, My Spittle Pony, Powerless Glove, Richie Retch, Sad Magazine, Scar Magazine, Scare Bears, Sea Honkies, Shebad, Slippery Murry-O Bros, Snafu, Snookered, Soldier of Misfortune, Splat the Bunny, Spleen Beat, Sweat Valley High, Tushie Roll, TV Died, Twisted, Unlucky Dog
The 1992
Unpublished
Rough Art

Orangenie, Polly-O-No!, Rookie Crisp, Wide Casket
1999
Wacky Hackers

Duum, Lame-Boy, Monkey Dung, Monotony, Moth, Must, Nuke Pukem, Puke-Man, The Slums, Streak Fighter, Stupid Mafia Bros., Tired, Windbags98

See the Full List of Lost Wackys
| | | | |
| --- | --- | --- | --- |
| retire retirement stocks trade online | make money at home cash advance | student education college university | new car loan mortgage refinance |
| | | | |
| --- | --- | --- | --- |
| wacky packages doom xbox atari games | dvd tomb raider cd garbage pail kids Anime | nintendo mario art cartoons toys artist fart | video game learn to draw comic books tv hulk |
---