Wacky Packages
1979 Test Series
---
Before the 1979 Reissue Series was released, Topps experimented with a test set. These were based on a modified 1st / 2nd series sheet which was offered as a wall poster (below) in 1973.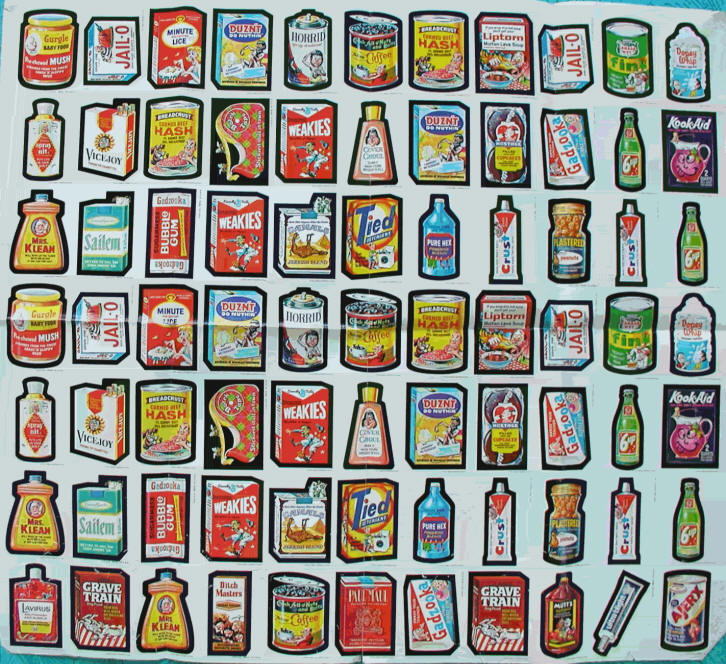 The 1979 test stickers all have blank white-backs and carry the old 1973 copyrights. The only way to tell them apart from the original series, is by the shape of the die-cut lines in the black border.
Original 1st and 2nd series stickers have a faint blue line within the black border. The blue seems absent in the '79 set, but it's not yet been proven that this outline appears 100% of the time in the older series.
Also, the eight 1979 titles taken from the 2nd series all have one asterisk (*) in the copyright. Original 2nd series stickers can have either one or two asterisks.
| | | | |
| --- | --- | --- | --- |
| dvr Wacky Packages horrors of war | dvd tivo cd garbage pail kids donate your car | star trek poker wars cartoons mars attacks artist fart | adultswim cash advance work from home college |
| | | | |
| --- | --- | --- | --- |
| dvr Wacky Packages coin collectors franklin mint coin collecting | dvd tivo cd garbage pail kids donate your car | star trek poker wars cartoons mars attacks artist fart | adultswim cash advance work from home college |
---