Parody of
Good and Plenty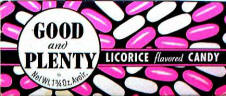 Do you remember the words to the Choo Choo Charlie GOOD & PLENTY candy theme song?

Once upon a time there was an engineer
Choo Choo Charlie was his name, we hear.
He had an engine and he sure had fun
He used GOOD & PLENTY candy to make his train run.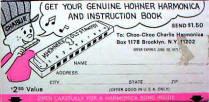 Painting by Tom Sutton
*FANTASY STICKER*
GOOD AND EMPTY
Good and Empty never got to be a sticker, but if it had, maybe it would have looked like this.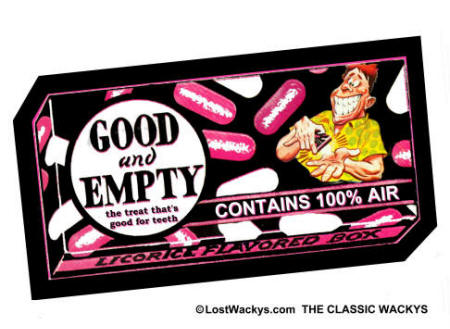 Twenty five of the 1973 2nd Series stickers were based on the 1969 Wacky Ads. But due to a 1969 "cease and desist" order from Quaker City Confectionery Company of Philadelphia, G&E was dropped early in the Wacky Ads run, making it one of the rarest wackys.
If Topps had done its homework, G&E could have been reissued as a sticker. It seems that the Good and Plenty brand was sold in 1973 to Warner-Lambert, makers of Trident Gum and Halls Cough Drops. But Topps' 1974 list of dropped products still noted the Quaker City ban against G&E.
(Good and Plenty is currently owned by Hershey's Chocolate.)
More Fantasy Stickers:
Garbage Baby Food, Good and Empty, Guerilla Milk, Melty Way, Metrekill, SludgSickle