Wacky Packages 2004 ANS1
Lost Wacky - "Snot Pockets"
---
Snot Pockets by Strephon Taylor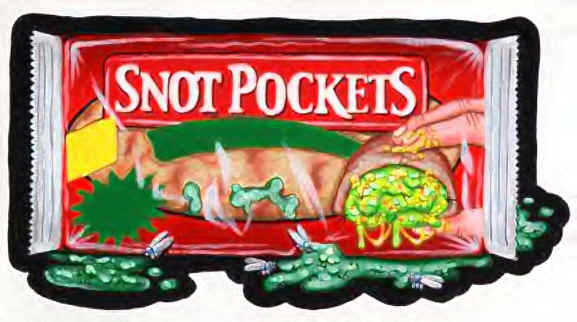 Topps rejected Snot Pockets because it made this popular food product look "far too repulsive".
Back in ANS1, Topps allowed artists to add smaller text by computer. Although unfinished, here's what Strephon Taylor had to say about the blank spots on Snot Pockets:

The green swipe right below the Snot Pockets logo said:

"Booger & Broccoli Mucous - Stuffed Microwave Sandwiches"

The yellow box said: "From Your "Gross"ers Freezer!"

And the green star said: "Pick It - It's a Winner!"
Actual Product: Hot Pockets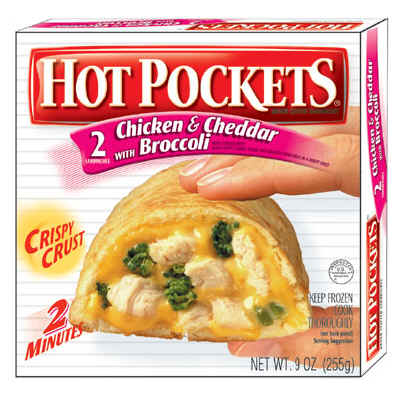 | | | | |
| --- | --- | --- | --- |
| cd wacky packages doom xbox atari games | online tomb raider dvd garbage pail kids Anime | adultswim art cartoons toys laugh dirty jokes puns | video game system big screen plasma tv parody |
LOST WACKYS
UNPUBLISHED WACKY PACKAGES

2004 ANS1
Lost Wackys


Bacteria, Gooya, Plop on Pop, Snot Cakes, Snot Pockets, Swansong Snot Pie, 3 Racketeers, Usneeze

2005 ANS2
Lost Wackys


Creeps, Hurtsey's, Little Geezer, Red Veins, Slacker Jack, Twits
2005 ANS2
Unpublished
Rough Art
After Eighty, ALL-PRO, Ball Park Cranks, Bilex, Blake-Os, CapriScum, CapriStun, Careless, Count Chokeula, Crust Widestrips, def-Con, dOh!, Dolt Cola, Fake-Os, Fe-brie, Fetchers, Guillotine, Kiss of Death, Krazy Kreme, Kreepy Kreme, Lady Weed Stick, Lawyers Ice Cream, Maximum, Mice Krispies Traps, Mr. Spleen, Mullet Free, Napsnore, Newman's Old, Noxious, Polluted Spring, Pollutin' Spring, Powder Bar, Rold Mold, Secretion, Slam Fist, Slugles, Snotsages, Swearless, UpChucks, Weak Things, Whacked Wobbler, Whack Packages

What are Lost Wackys?


See the Full List of Lost Wackys
| | | | |
| --- | --- | --- | --- |
| cd wacky packages doom xbox atari games | online tomb raider dvd garbage pail kids Anime | adultswim art cartoons toys laugh dirty jokes puns | video game system big screen plasma tv parody |
| | | | |
| --- | --- | --- | --- |
| cd wacky packages doom xbox atari games | online tomb raider dvd garbage pail kids Anime | adultswim art cartoons toys laugh dirty jokes puns | video game system big screen plasma tv parody |
---