2008 Wacky Packages Series 2 Limited Edition Postcards
SKU: WPC2A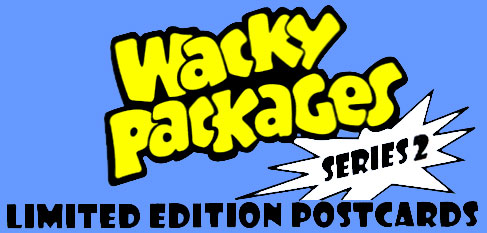 Wacky Packages Limited Edition Postcards Series 2
• Designed by Wacky artist Neil Camera, each postcard boasts a brand new Wacky Packages
parody gag!
• Each individual Postcard is Signed & Numbered
by the artist
• Series 2 Artist Signed Edition is Limited to
only 250 Sets
• Three Full Color Postcards in each Set
• Postcards feature Authentic Postcard back
• Exclusively from the Topps Online Store
• Includes a matching numbered sketch card

ONLINE STORE EXCLUSIVE
Mutty Bars Bonus Card
included with each 3-postcard set!
This product is not authorized or endorsed by any of the companies who are the subject of parody.
The products we are spoofing -- including our own -- are all good ones, no kidding.
The postcards -
Swiss Moose, Mummy-D, and Cheatas
- are based on
Lost Wackys
Each set of three signed postcards came with a Mutty Bars Bonus Card
and one of three wacky sketchcards --
Swiss Moose sketch, Mummy-D sketch, or Cheatas sketch
(note the cigarette butt in this ad for The Topps Vault eBay Auctions which accompanied my postcards)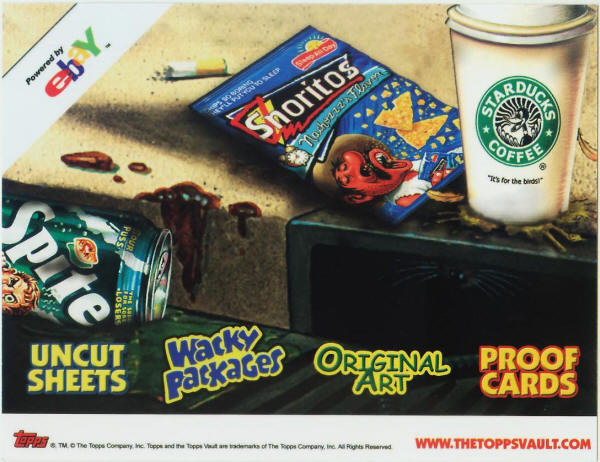 Series 1 Postcards came out in 2007