Parody of Gerber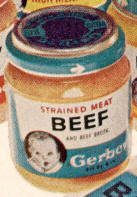 1969 Wacky Ad Garbage Baby Food

Painting by Tom Sutton
*FANTASY STICKER*
GARBAGE BABY FOOD
Garbage Baby Food never got to be a sticker, but if it had, maybe it would have looked like this.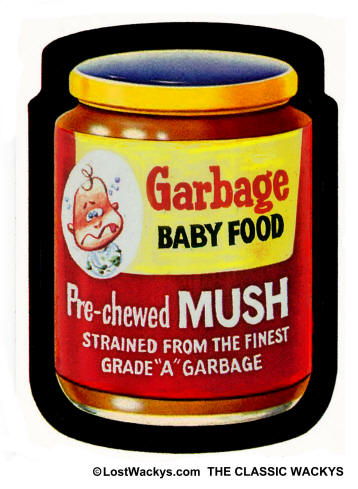 Twenty five of the 1973 2nd Series stickers were based on the 1969 Wacky Ads. Garbage Baby Food was repainted for the 2nd series as Gurgle Baby Food.
We don't know why the name was changed. Did Topps think "Gurgle" was funnier, or less offensive toward Gerber? Or did Tom Sutton change it on his own, since he was also painting Wacky Garbage during this time?
More Fantasy Stickers:
Garbage Baby Food, Good and Empty, Guerilla Milk, Melty Way, Metrekill, SludgSickle