---
BAND-ACHE STRIPS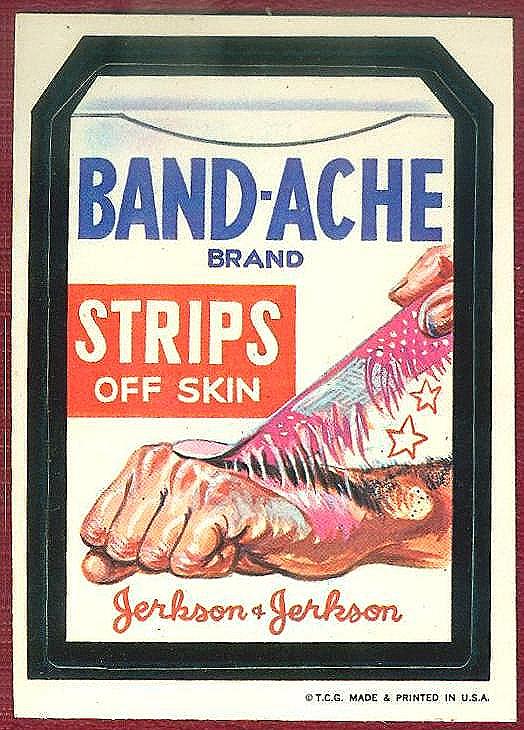 Band-Ache Brand / Strips off Skin / Jerkson & Jerkson
Great Spoof of Johnson & Johnson's "Band-Aid Strips" and their slogan "Keeps Skin Fresh"
| | | |
| --- | --- | --- |
| Band-Ache | Spoof of Band-Aid | "Keeps Skin Fresh" |
| | | |
BandAche is a tough sticker to find. Mainly because Topps only printed one Band-Ache per sheet, when many other wacky packages titles appeared 2, 3, and even 6 times. (See the 1st Series Production Sheet.) Lavirus, Mutts, & Paul Maul were also printed one per sheet.
After appearing in four different sets from 1967 to 1973, Band-Ache was dropped from the list of usable Spoof products in late 1973 during the original 5th Series run. It was almost pulled prematurely from the cloth series in 1972, due to some confusion between the Mead Johnson Company and Johnson & Johnson. (Read about Metrekill.)
About midway through the 5th Series, Topps ran out of the yellow wrappers which were used from the tail end of the 3rd Series and the entire 4th Series. Topps printed up a zillion blue wrappers to be used for the 5th Series, 6th Series, & 7th Series. These had an offer on the back for a "Wacky Wall Poster" which included the ENTIRE 1st Series, plus some repeats. Basically, they were printing the Sticker Sheet as a poster.
But when kids (like me) ordered the Wacky Wall Poster through the mail, there was no BandAche. And several other titles had been replaced with 2nd Series wackys. I wrote to Topps, telling them they messed up. That my poster DID NOT have the complete 1st Series like the wrapper said, and where was Band-Ache? (I really really needed one.)
Topps replied with a nice letter explaining that several titles could no longer be produced, due to legal issues. (sigh) I'm still not over it. The ad was corrected when the 8th Series orange wrappers came out, stating that the poster included MOST of the 1st Series wackys.
BandAche and several DieCuts were going to be revived in the 1979-1980 Reprint Series, but Wacky Packages production ended before the 1980 5th Reprint Series went to press.
| | | | |
| --- | --- | --- | --- |
| dvr Wacky Packages horrors of war | dvd tivo cd garbage pail kids donate your car | star trek poker wars cartoons mars attacks artist fart | adultswim garbage pail kids ans6 nonsports cartoons movies comics movies comic book value |
---