---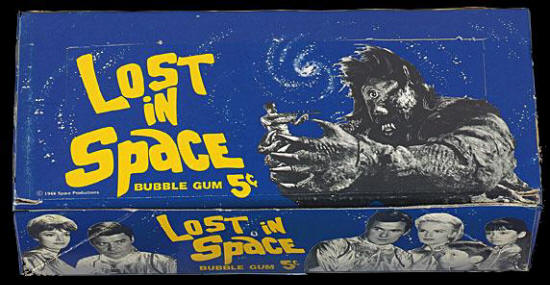 A tremendously popular set, Lost in Space cards feature images taken from the first year's shows with a heavy focus on the launch and subsequent "losing" of the Robinson family. As one might guess, all the major show characters are here including "the Robot", the "One Eyed Terror", and even "the Bloop!"
The card backs have their own 55-part storyline which ties all the photos together into one big episode.
Several Lost in Space cards are severely short-printed and over-printed, making this set very tough to complete.
lost in space dvd lost in space on dvd lost in space video lost in space episodes lost in space tv show lost in space show lost in space com lost in space videos lost in space episode guide lost in space film lost in space tv lost in space the movie lost in space season 1 lost in space season 2 lost in space season 3 lost in space series lost in space tv series lost in space television show lost in space music lost in space photos lost in space television lost in space episode lost in space pictures twilight zone tv twilight zone episode twilight zone show the twilight zone episodes nightmare at 20000 feet twilight zone pinball machine new twilight zone twilight zone the movie twilight zone movie tower of terror twilight zone pinball twilight zone series television series on dvd batman tv series dvd tv series on dvd television series dvd tv series dvd night gallery dvds the night gallery on dvd night gallery tv series night gallery dvd night gallery series night gallery tv night gallery download
---
wacky packages Cereal Killers Hollywood Zombies New Webkinz Gurley Candles