Spook Stories
(1961 Leaf)
The Set

Set title: Spook Stories
AKA: Spook Theatre. (Series II cards as "Son of Spook Theatre")
Set type: Trading card set. (Sold via wax packs.)
Producer: Leaf
Year released: 1961
Cards in set: 144
Stickers in set: 48 (Possibly more.)
Wrapper produced: Yes
Card cost (Nrmt): Series I (1-72) $2.00-$3.00 ea.
Card cost (Nrmt): Series II (73-144) $5.00-$7.00 ea.
Card set cost: $350-$450
Sticker cost: $10.00-$15.00 ea.
Sticker set cost: $750.00
Variations: Spook Stories card backs can be found with a
variation that features
the ghost's eyes jumping out of it's head.
Set Comments
Spook Stories claim to fame is that it is the very first monster card set to use classic monster photos on slick, glossy paper. And it all adds up to an extremely popular set that's still relatively affordable. Series I cards are common to find in lower grades and slightly more difficult to locate in top grade. Several of the series II cards are difficult to come by, especially in high grade. Stickers are extremely scarce.
Card wrappers and display boxes identify these cards as "Spook Theatre" and "Son of Spook Theatre" though "Spook Stories" is the much more common name and can be found on the back of each card. NOTE: Obtain stickers from a reputable dealer as counterfeit stickers have been found.
Spook Stories collectors tend to also enjoy: 1961 Horror Monsters (Green), 1961 Horror Monsters (Orange), 1963 Terror Monsters and 1963 Famous Monsters.
1961 Spook Stories: Card Fronts

| | | | |
| --- | --- | --- | --- |
| | | | |
1961 Spook Stories: Card Back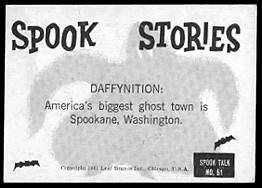 1961 Spook Stories: Stickers


1961 Spook Stories: Pack
(Series I)


1961 Spook Stories: Pack
(Series II)

1961 Spook Stories: Box (Series I)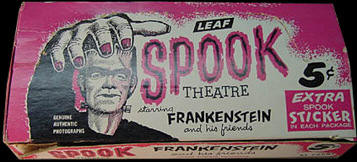 1961 Spook Stories: Box (Series II)