Captain Kirk, Spock, McCoy, Sulu, Lt. Uhura, and Yeoman Janice Rand are all present and accounted for in this very first Star Trek card set that is immensely desirable, and immensely expensive. Sadly, Scotty and Chekhov did not make the set.
A "test market" release by Leaf, 1967 Star Trek cards saw very limited distribution before being pulled from the market. Consequently, there just aren't enough cards to go around for all the Star Trek collectors who would like them.
Owing to the prohibitive price tag that accompanies 1967 Star Trek cards, many collectors choose to pick up just a few cards that feature their favorite cast members, and don't pursue the entire set.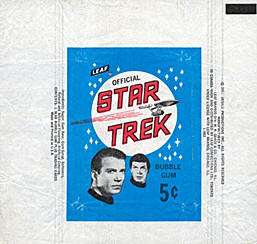 1967 Star Trek is a first-rate example of a card set that is supply scarce and demand scarce.
Top-grade examples of card #1 are worth hundreds of U.S. dollars, partly because the thin-stock cards were easily damaged.
At the time of original printing, the cards were also printed for distribution in Europe. The cards were not released because of complications of the Desilu contract with Leaf, but uncut sheets that appear to be those cards were discovered in a warehouse by Dan Kremer Imports.
Kremer was granted permission by Paramount to liquidate these sets, and he produced numbered sets with a Certificate of Authenticity. With this provenance, you could be reasonably confident that these cards were not unauthorized reprints.
The CoA states, "Upon examination, The European set exhibits the following differences to their American counterpart. The European sets were never gloss coated (very few European cards were ever gloss coated). The cutting was poorer than the American edition (the cutting machines in Europe were early outdated cutters from the U.S.) The camera work is slightly poorer (again, inferior cameras)."
star trek tv science fiction book club sci fi network science fiction channel star trek dvds science fiction convention sci fi convention star trek voyager dvd star trek first contact sci fi com star trek ringtones sci fi books star trek quotes sci fi shows star trek tv show star trek ring tones science fiction books sci fi channel schedule sci fi series star trek dvd star trek experience science fiction novels buy star trek dvd star trek ring tone star trek show star trek ringtone star trek the experience science fiction star trek shows star trek tng star trek collectibles star trek ships star trek the next generation dvd science fiction writers star trek memorabilia sci fi movies science fiction movie science fiction authors star trek episodes star trek ds9 science fiction museum star trek television series star trek voyager star trek tv series star trek episode guide star trek online buy star trek star trek television science fiction movies best sci fi movies star trek characters star trek enterprise science fiction magazine sci fi channel star trek wav star trek com best sci fi star trek original star trek cards download star trek star trek ship star trek communicator star trek poster star trek movies star trek action figures star trek original series sci fi tv star trek autograph star trek figures sci fi movie sci fi art star trek cast star trek tos star trek episode star trek series star trek toys star trek gifts star trek new voyages star trek convention star trek videos star trek books star trek armada 2 star trek deep space nine dvd star trek next generation star trek the next generation star trek 11 star trek game star trek iv star trek sounds science fiction awards star trek video star trek the original series science fiction stories star trek plate star trek conventions star trek wallpaper lost in space dvd lost in space on dvd lost in space video lost in space episodes lost in space tv show lost in space show lost in space com lost in space videos lost in space episode guide
---
wacky packages 2008 Cereal Killers Hollywood Zombies New Webkinz Gurley Candles