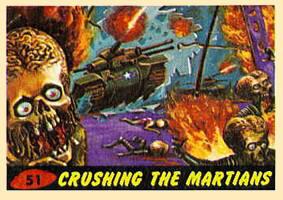 The Set
Set title: Mars Attacks
Set type: Trading card set. (Sold via wax packs.)
Producer: Bubbles, Inc. (AKA "Topps")
Year released: 1962
Cards in set: 55
Wrapper produced: Yes
Card cost (Nrmt): (#1) $100.00-$175.00
Card cost (Nrmt): (2-54) $25.00-$35.00 ea.
Card cost (Nrmt): (#55 Checklist) $350.00-$475.00
Set cost (Nrmt): $1,500-$2,500 (See below.)
Wrapper cost: $500+
Empty box cost : How high is up?
Unopened box cost: Purchasing a time machine to go
back and buy one would be less expensive!