You'll Die Laughing (1973)
The Set

Set title: You'll Die Laughing
AKA: Creature Feature
Set type: Trading card set. (Sold via wax packs.)
Producer: Topps
Year released: 1973
Cards in set: 128
Wrapper produced: Yes
Card cost (Nrmt): Series I #1-60 75¢-$1.00 ea.
Card cost (Nrmt): Series II #61-128 $1.00-$1.50 ea.
Set cost (1-128 Nrmt): $150-$200
Set Comments
The 1973 You'll Die Laughing set (which takes it's name from the headline on the card backs) has always been a popular set owing to it's large monster content, ease of set completion and relatively low cost.
Paper stock is rather weak which affects corner and edge wear (examine closely before buying.) Also, blurry images are a severe problem with 1973 You'll Die Laughing cards and attention should be paid to image focus when purchasing to avoid disappointment later on.
Topps also produced a You'll Die Laughing set in 1980. This set is better known as "Creature Feature" and will be covered in our next update.
Click for a description of Topps' 1959 You'll Die Laughing card set.
1973 You'll Die Laughing: Card Fronts

| | | | | |
| --- | --- | --- | --- | --- |
| | | | | |
| | |
| --- | --- |
| 1973 You'll Die Laughing: Card Back | 1973 You'll Die Laughing: Wrapper |
1973 Creature Feature Unopened Pack
1973 Creature Feature Display Box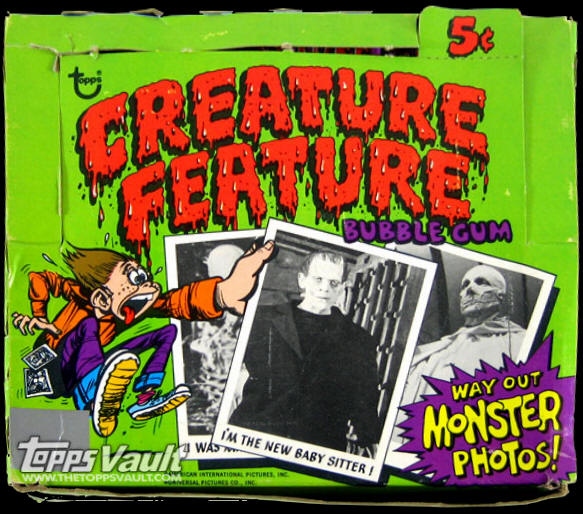 dvds ringtone twilight zone complete twilight zone video rod serling twilight zone twilight zone definitive collection twilight zone episodes watch twilight zone twilight zone season 1 television series on dvd batman tv series dvd tv series on dvd television series dvd tv series dvd night gallery dvds the night gallery monster mash famous monsters of filmland universal monsters dracula frankenstein the wolfman the mummy the invisible man godzilla alfred hitchcock presents the loch ness monster hunter lochness lake monster green eyed monster cyclops model kits monster island scary monsters vincent price bela lugosi boris karloff little shop of horrors deliver us from evil horror channel evil strawberry little shop of horrors lyrics resident evil apocalypse american gothic horror stories see no evil hear no evil little shop of horror resident evil movie horror convention new horror movie touch of evil new horror movies horror videos horror story new horror horror dvds horror book horror novel resident evil extinction evil eye evil dead the musical see no evil evil empire horror dvd horror movies evil dead 2 zombie pics zombies psychic vampires psychic vampire vampire romance vampire freak vampire bat vampire series vampire freaks vampire bats vampire stories vampire story vampire the masquerade bloodlines vampire freaks com vampire masquerade bloodlines vampires vampire the masqurade buffy the vampire slayer episode guide vampire fiction buffy the vampire slayer buffy the vampire slayer episodes vampire books vampire clans vampire the masquerade redemption vampire princess vampire bloodlines
---
wacky packages Cereal Killers Hollywood Zombies New Webkinz Gurley Candles