Adventures of Captain Chapel
(1962 Mister Softee)
The Card Set

Set title: Adventures of Captain Chapel
AKA: Captain Chapel
Set type: Trading card set.
Producer: Mister Softee
Year released: 1962
Cards in set: 10
Wrapper produced: No
Card cost (Nrmt): $2.50-$3.50 ea.
Set cost (Nrmt): $35.00-$45.00

Set Comments
An obscure, small outer space sci-fi card set with terrific artwork, the only people who seem to know of this set's existence appears to be non-sports card hobbyists, and those who grew up with Mister Softee ice cream in their neighborhood. (Originally distributed as single cards from "Mister Softee" ice cream vendors.)
Adventures of Captain Chapel cards tells a short story of Earth's first space mission to the moon as commanded by Captain Chapel.
There aren't any monsters in this set, but this is a first class sci-fi trading card set as produced by an otherwise non-card producing company.
Note: An "Adventures of Captain Chapel Fan Club Card" (smaller in size) was distributed in conjunction with this set and is extremely difficult to locate. It is not considered part of the set.
1962 Adventures of Captain Chapel: Card Fronts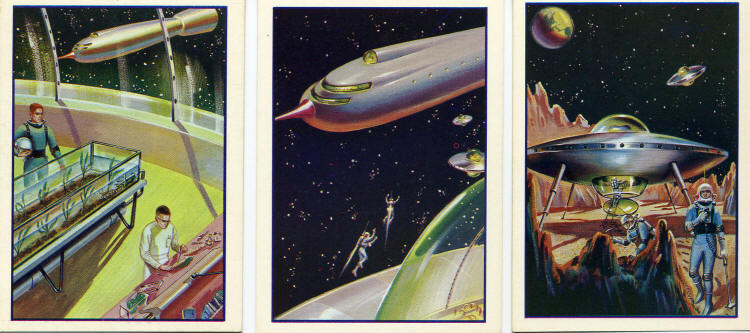 1962 Adventures of Captain Chapel: Card Backs