---
Frankenstein Stickers
(1966 Topps)
The Set

Set title: Frankenstein Stickers
Set type: Sticker set. (Sold via wax packs.)
Producer: Topps
Year released: 1966
Stickers in set: 44
Wrapper produced: Yes
Sticker cost (Nrmt): $12.00-$15.00 ea.
Set cost (Nrmt): $700-$850
Set Comments
A highly sought after set that is very difficult to complete owing to several shortprints and the general thinness of the stickers. Stickers feature classic and generic monsters with a "Valentine greeting" theme.
Several boxes (opened and unopened) of Frankenstein Stickers have recently come onto the market from the Florida area, but these have already been vacuumed up by the hobby.
Wrapper Comment
This is a case where the wrapper is much easier to find than are the stickers. There is no satisfactory explanation for this. Wrappers routinely sell in the $12.00-$15.00 range.

1966 Frankenstein Stickers: Fronts


1966 Frankenstein Stickers: Wrapper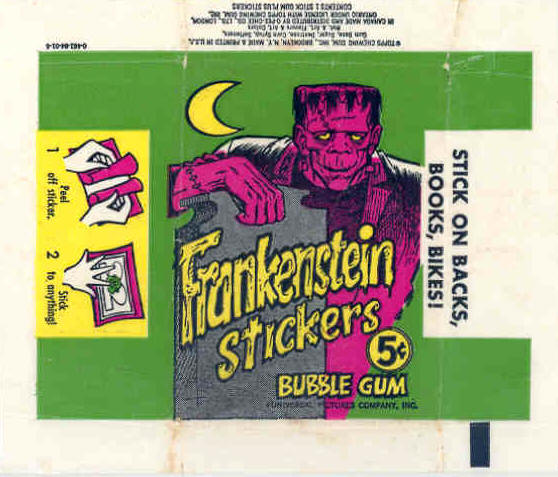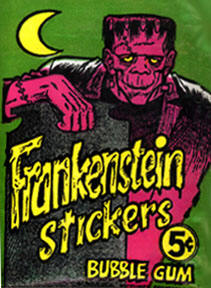 1966 Frankenstein Stickers: Box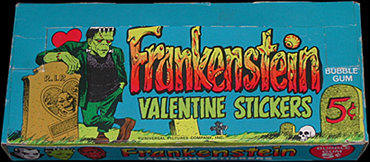 dvds ringtone twilight zone complete twilight zone video rod serling twilight zone twilight zone definitive collection twilight zone episodes watch twilight zone twilight zone season 1 television series on dvd batman tv series dvd tv series on dvd television series dvd tv series dvd night gallery dvds the night gallery monster mash famous monsters of filmland universal monsters dracula frankenstein the wolfman the mummy the invisible man godzilla alfred hitchcock presents the loch ness monster hunter lochness lake monster green eyed monster cyclops model kits monster island scary monsters vincent price bela lugosi boris karloff little shop of horrors deliver us from evil horror channel evil strawberry little shop of horrors lyrics resident evil apocalypse american gothic horror stories see no evil hear no evil little shop of horror resident evil movie horror convention new horror movie touch of evil new horror movies horror videos horror story new horror horror dvds horror book horror novel resident evil extinction evil eye evil dead the musical see no evil evil empire horror dvd horror movies evil dead 2 zombie pics zombies psychic vampires psychic vampire vampire romance vampire freak vampire bat vampire series vampire freaks vampire bats vampire stories vampire story vampire the masquerade bloodlines vampire freaks com vampire masquerade bloodlines vampires vampire the masqurade buffy the vampire slayer episode guide vampire fiction buffy the vampire slayer buffy the vampire slayer episodes vampire books vampire clans vampire the masquerade redemption vampire princess vampire bloodlines
---
wacky packages Cereal Killers Hollywood Zombies New Webkinz Gurley Candles