---
Blockheads / 3-D Monster Posters (1967)
(Topps)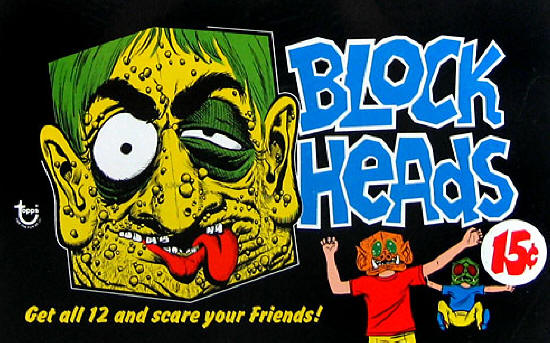 BLOCK HEADS was another ingenious "ugly monster" novelty item invented by Woody Gelman, the creative art director at Topps. He assigned the project to his crack team of freelance artists; Wally Wood, Basil Wolverton and Norman Saunders. The same artists that had previously created 1965 Ugly Stickers.
Wally Wood designed 10 of the 12 images. He was eager for work, very fast and energetic, and he was the world's greatest cartoonist of playful alien monsters. Wally was a big fan of Basil Wolverton, but Topps had difficulty working with Wolverton because he was slow, expensive and exceptionally intent on retaining copyright, but Wally insisted that Topps hire Wolverton to create as many of the images as possible in the short amount of time that was available to produce the set. In the end, Basil Wolverton only created two images: #4 - WITCH DOCTOR and #10 -THE BLEECH.
Norman Saunders was also fast and eager for work. He took the preliminary drawings of THE PIRATE and THE SKULL, and made full scale paintings on white cardboard boxes. Wally Wood had made his preliminary drawings on brown paper bags, and Norman Saunders had to translate those "roughs" into working schematics, that would fold together into square cardboard boxes, and which kids could pop open and slip over their heads. Norman's son was enlisted to wear the prototype-mask in order o determine the correct placement of each child-sized eye-hole. When Norm brought these first masks into Topps for approval, Woody Gelman was disturbed by the results. He felt that Norm's typical style of realistic painting made the images more frightful than playful. Topps preferred a cartoon look for this series, like a full-color comic book cover, in order to retain the sassy joy of Wally Wood's monsters, so Norm was assigned to simply color-in the "cartoon" drawings. This was also faster and cheaper.
Norm was invited to work at the Topps art department offices in order to experiment with spraying colored inks though an "air-brush" connected to a small air compressor. Norm later reported that the "air-brush" was fast and fun to use, but it created only limited effects, so he was not going to buy one for use in his own studio. Norm said, "Topps already has a low-paid air-brush artist on staff, so why should I invest in the equipment to compete for his minimum wage jobs! Topps is always trying to pit their artists against each other to get the lowest price!" The series had an exciting creative start, but it was soon bogged down with complex problems. At first there were architectural questions about how to construct the actual box and lay-out the artwork for printing in order to make the assembly process fool-proof.
Later on, the legal advisors at Topps became opposed to the whole idea because of their concerns about lawsuits from the parents of a suffocated kid or a blinded kid who walked off a rooftop, or a deafened kid who was run over by a bus, or worst of all, a little kid running around with a flaming paper box stuck on his head! So Woody Gelman began to consider printing the series on special "fireproof paper" that was a starched cheese-cloth fabric that kids could see through, breathe through and hear through. After researching the materials, Ben Solomon rejected the whole idea as too expensive and complicated. At which point Topps decided to drop the whole idea of masks. They released the set as "posters" instead, and retitled the series "3-D MONSTER POSTERS." The unfolded artworks were visually appealing and there was a big fad at the time to sell posters from old monster movies for kids to hang up in their rooms, so the poster market had a longer life span than a novelty Halloween mask. These revisions solved Topps' legal concerns, and avoided the financial risk of using experimental "fabric" materials with unpredictable production costs, but they also took a lot of the fun out of the original idea for the set, which had limited distribution in October 1967 and are today exceptionally rare collector's items.